Kunshan wgc – World gaming conference 2013
Kunshan wgc – World gaming conference 2013
Spent the day at the world gaming conference which basically consisted of a load of nerds and girls dressed up in bunny costumes.
Got some of the girls in bunny costumes on film so read on.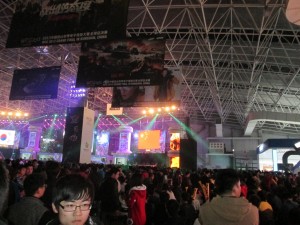 Entrance
Place was jammed. The queue was at least two hours long when I got there.
Being from England this presents a great opportunity to doff one's cap in a mustn't grumble manner.
So I queued for 45 minutes.
Very nice experience. Chatting to some Australian teacher. Works at web English and his Chinese friends all very nice.
When I got in eventually, this was like a large explosion in my head, almost indescribable.
Anyway, got there in the end.
The whole event was being staged at the Conference Center in Kunshan. Two buildings. Large and modern with all the character of a pair of grain silos. Still. Hung out in there for a little while.
Bought a MURLOCK!
He's looking to grow a little perhaps. Seems a bit anemic at the moment. Got him from the Warcraft Tent. They had lot's of bits and pieces in there which seemed familiar to me from back in my Warcraft days.
Couldn't resist the Murlock. They have a kind of legendary status in Warcraft. Maybe the first thing you're going to do is get into a fight with some Murlocks. They're pretty useless really.
This one is a baby Murlock. He wouldn't do any serious damage to my warlock!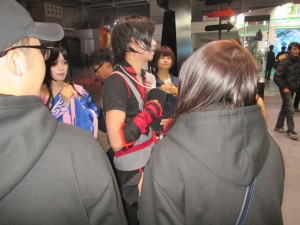 Hung out in the players lounge.
Didn't realise at first. Thought it was a TV behind the stage for official types. It was only when the people got up onto that stage. I'd been sitting and chatting with these people that were the competitors for the past hour or so.
Met a friend
That I used to play badminton with.
Didn't remember exactly what it was I said to her. She said it was a good one liner anyhow. Didn't recognise her at first.
All in all a good day.
Even though I'm not massively into gaming anymore found it pretty good to wander around and came home feeling pretty glad I'd gone even though the shocking reputation gamers have. They are not to be shunned, some are normal people. I mean who doesn't play games on their mobile phone??
Tablets are just made for games, judging by the popularity of the event, games are a guilty pleasure that people just don't want to admit they'd had. (Like this girl on the right).
OK
Here's the rest of the pictures from the event.