Yangshou – Li River Cruise
Yangshou – Li River Cruise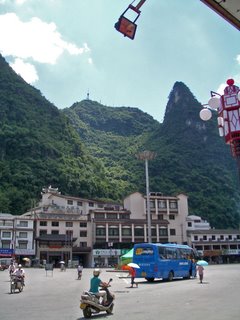 Yangshou.
A backpacker and traveller metropole.
Set in the village of Yangshou offers boating, mountaineering, absailing around the rocky outcrops. The usual backpacker stuff.
A good market stall selection on West Street.
The fact that it had neither broadband or airport meant it was unsuitable as a business traveller.
If you take the Li Valley River cruise, you will be taking a bus back from here, no doubt, and you'll probably wish you were a backpacker again.