Onley to Anstey
Onley to Anstey
Well. I've got all the time in the world now. Doesn't make that much difference though. I like to keep the boat at a fairly steady speed even if I don't have a whole lot to do when I get there.
Lack of moorings between Rugby and Hawkesbury Junction
Last time I made this journey, I was a boating noob. Now I've got a few years under my belt, one of the first things I notice was as above.
It's like a mooring desert….
Apart from the odd bit of long-term mooring, there were 2-3 spots which would be suitable for me as a liveaboard in the 11 miles or so between Rugby and where I am now, Anstey.
That made it a much more speedy journey. No slowing down for moored boats. There are none.
Anstey is about 3 miles from Hawkesbury Junction onto the Coventry canal.
I made a time-lapse video of the canal journey down this top-end which is quite nice viewing. You should watch it, it doesn't take long.
Anstey
I've stopped at exactly the same spot I did last time, which is a bit of an inspired decision, coming from either direction.
It's the only place for miles that has Armco….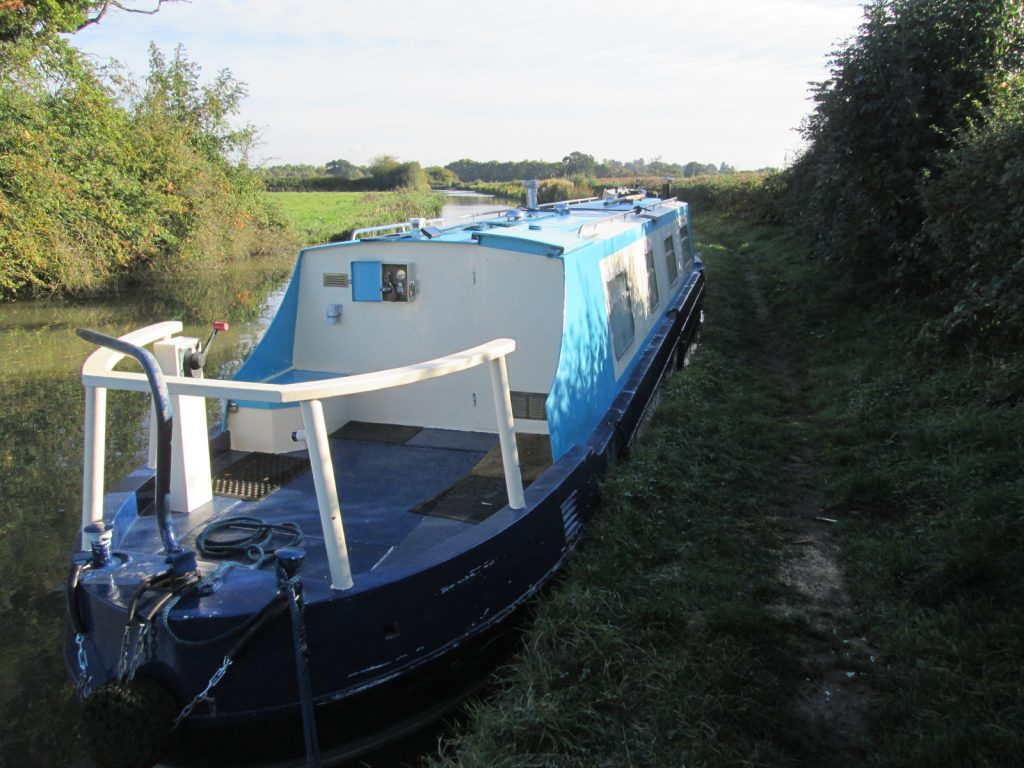 Mooring a narrowboat – clips, chains or pins?
When I'm mooring I always look to use clips, or chains use spring mooring on the boat if I'm stopping for a longer period.
Spring mooring is when you secure the boat using more than one line at either the front or the aft, or boat.
A spring moored narrowboat looks like this.

Ideally, you'll want to be using the chains and clips. I prefer chains personally as they don't make a clanking noise when boats pass. They also add a little length to your ropes. As well as that, chains are much more difficult to lose in the cut than the clips. Otherwise, they both do the same job and I will use either.
Pins are your last method, and you actually need to bang them into the ground. Unless you have really hard hands, this is going to require a hammer. More than that, if you're stopped for any period, you're going to need to double pin, otherwise, your boat will end up like this….
As a final note to my mooring a narrowboat section, you need to bang these pins in a specific direction, East to West, I call it. It may be North to South depending on how the boat is facing or up and down or backwards and forwards. This is probably why I don't use pins.
It becomes so complicated.
It's not reliable….
Still, I'm not here for long. I've got this lovely Armco.
Weather the storm
Got myself a crate of beer. The fire is lit. The fridge is full.
I'm in a good position to weather this storm until better conditions arrive around Sunday.
Till then, it's going to be gaming, sleeping and beer.
Choochie bye.
Images from the day
Previous posts
Last time, I managed to get to Flecknoe, my favorite summer spot, on my journey down towards the Thames and eventually Kennet and Avon and Lands End. In a roundabout way. https://www.michaeltyler.co.uk/day-37-ansty-flecknoe/
That was called Bonnie Journey.