Tren Fin del Mundo
Tren Fin del Mundo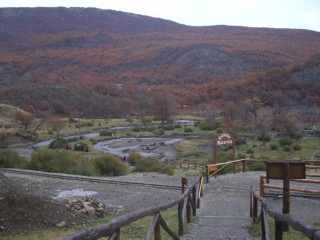 Being a geeekish time waster type, I decided to give this train a go.
Originally used to carry passengers to a remote part of Patagonia it was closed down some time in the 19th C and recently re-opened for the purposes of tourism.
It moves very slowly and is quite boring.
Beavers
The piped commentary tells of prisoners, harsh conditions, prisoners and beavers building damns.
The most exciting thing is the
Petrified forest
A petrified forest remains intact forming a vast plain where prisoners felled trees for fuel and rails (the railway used to have wooden tracks).
Frozen stumps are interspersed with wild horses mountains and mountain streams.
It is freezing cold.
This is a picture of the train.
There.
Thats made it more exciting.