A smashing time!
A smashing time!
Yeah, this time smashed my rod, not my line.
Here's the one that didn't get away…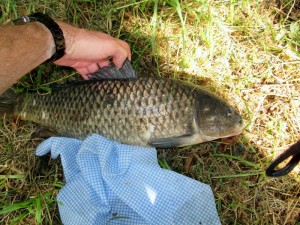 Took me 5-10 minutes to land, and was fairly lively when I got it on the bank.
This resulted in me not placing it far enough from the water. I should have put it much further up on the bank, away from my tackle. Unfortunately, I didn't and stepped backwards and did this to my rod.
Fortunately, I've just ordered one of these for spare.
Made a nice crunching noise when I trod on it.
Hook came out easy, and the fish swam off happy.
I went home.
Another day fishing.
Related articles