List of Demonetized YouTube stars
List of Demonetized YouTube stars
**Updated: 4th April, 2018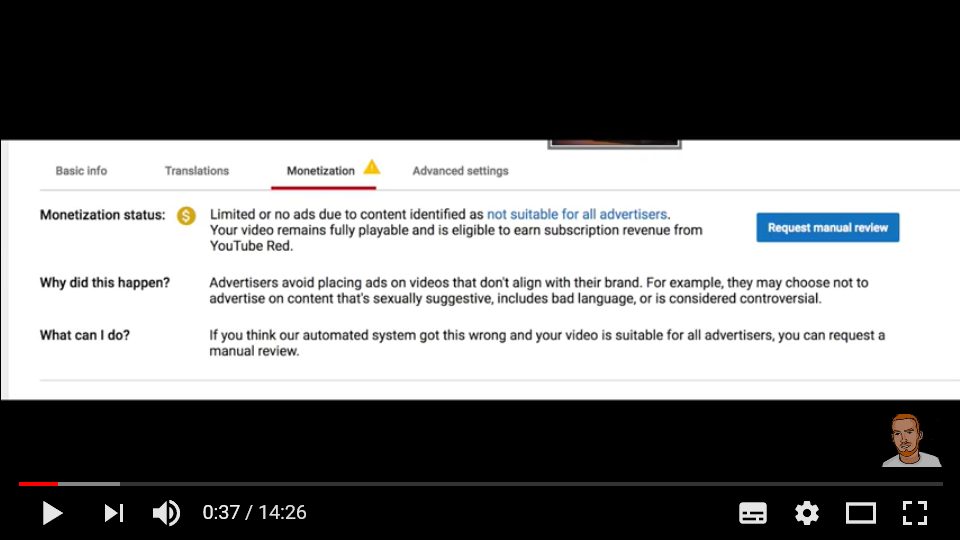 ** Updated post here https://www.michaeltyler.co.uk/googles-alt-media-off-button-forthcoming-war/.
Google Demonetization
You better watch out….
Google's latest move is to censor online content moving through it's various channels; search, video which is 'controversial'.
You can see it in black and white above.
This site, and other onliners such as WSWS have experienced exclusion from the index, or severe penalties. On the other side of the fence, in the world of YouTube, many publishers whose livelihood is based on the forum through and it's many subscribers, have found content 'demonetized'.
Even posters whose content has nothing to do with controversy, light entertainment channels may find they're getting censored if they don't present their information in the right way.
In many cases Google is simply targetted the individuals. Removing their content wholesale, whether it's breaching guidelines or not.
Judgement has been cast
Google refused to monetize my YouTube content many years ago. They said I was running a 'click-scam', the truth is, Google Adwords only pays publishers for a PERCENTAGE of the click-thru's they get on their site. Some clicks don't get registered at all. When you're making money from BILLIONS of clicks a day, that's a lot of money.
I know this, having been a publisher since 2003/2004 when Adwords first came out and I started running the program. I ran it for over 7 years…. Anyway, another story…..
List of demonetized YouTube stars

This list is ongoing, so if you want to slip me an email with your story, I can include you.

Ownage Pranks – 4,300,000 subscribers
Prankster who publishes impersonations he does over the phone as random hoaxes. Very funny.
Partial demonetization.
Source: https://www.youtube.com/watch?v=54zHdmArtPA&t=6s

Jaclyn Glenn – 530,799 subscribers
Discusses topics such as religion, atheism, animal rights, politics.
All videos demonetized.
Source: https://www.youtube.com/watch?v=VTyDx3XZTnA&t=102s

Dave Rubin – 520,623 subscribers
Creates the Rubin Report. Mostly right wing content with guests and commentary on current affairs.
All videos demonetized.
Source: Fox news
Wearechange (Luke Rudkowski) – 487,889 subscribers
Non-partisan, independent media organization comprised of individuals and groups working to expose corruption worldwide.
660 videos demonetized.
Source: https://www.youtube.com/watch?v=GOkeJo2Tye8
Andy Warski – 255,626 subscribers
Video blogger and commentator.
Videos demonetized.
Source: https://www.youtube.com/watch?v=a7EDa_IsyRg
Computing forever – 254,284 subscribers
Technology & Social Commentaries, discussions about politics, future technology, gaming Top 10s.
Videos demonetized.
Source: https://www.youtube.com/watch?v=egP2anxLIT8
Roving millennial – 270,000 subscribers
Commentary on news and current events.
Partially demonetized.
Source: https://www.youtube.com/watch?v=mnTeV0CdWeA
John Cedars – 14,833 subscribers
Jehovah's witness dissecting teachings of Jehovah's Witnesses, as well as new developments, keep on top of the latest propaganda released by Watchtower by way of video rebuttals.
Partially demonetized.
Nasim Aghdam– 5,000+ subscribers.
Produced a number of Youtube videos across a number of channels which Google deemed to have breached their guidelines in some way.
Once quoted in an article to San Diego Union-Tribune that 'animal rights equal human rights'.
In an Instagram post dated March 18, Aghdam complains about YouTube's alleged censorship, saying it was using its tools to "censor and suppress people who speak the truth and are not good for the financial, political gains of the system and big businesses."
Demonetized. Went on to shoot up Youtube's headquarters, then turned gun on herself.
'Cracking down'
Ownage Pranks owner sheds a little light on the information given from his 'Google insider' that suggests that many of the decisions are 'algorithm', or A1 driven.
Jim Stone, the investigative conspiracy supremo, claims that Google uses a tool such as this perspectiveapi.com.
A1 Censorship vs Human Censorship
perspectiveapi.com is a software that users can get a free test account, it's basically a A1 program that automatically vets user generated content for 'toxicity', giving it a score in percentage terms.
You can move this score up and down, and ban or allow comments on this basis.
Where YouTuber's videos are being demonetized on a 'case by case' basis, such as Ownage Pranks, it's clear from his video that the video's are censored using automated technology. Individual uploads being affected by something as arbitrary as the thumbnail image, or the name of the subtitle file.
Demonetizing whole YouTube channels
As well as this, Google's closing whole channels for business. Like Dave Rubin and Jaclyn Glenn.
Although many people are saying the A1 is responsible for this, I'd think it unlikely.
Google censors are sitting down with a list of information given by the A1, looking at words, phrases , content and images in that channel's video collection. That information in hand, watching a handful of most viewed content from the channel, then deciding based on some set of arbitrary discrimination rules, whether that channel is 'controversial' or 'non-controversial'.
The Rageaholic talks about the experiment he conducted; uploading content talking about his dishwasher, cabbage and what he read last night. The video was flagged for unsuitable content.
You can watch that video here.
Government directives
It's very likely these rules take into account directives from central government. The Conservative Party manifesto reveals a darker, divisive, authoritarian form of information censorship which supports the governments views and viewpoints, where supporters are rewarded and detractors punished.

The text of the manifesto talks of 'cracking down' on Google where the UK Government's demands are not being met.
Again, it's all very chilling stuff.
Search and YouTube
It's no different, they're two sides of the same coin, GOOGLE.
If Google's cracking down on controversial video's, it's cracking down on controversial websites. The two go hand in hand.
When we want to look at the drivers of that crackdown, we need to be looking at Governments. Governments and big business, as Theresa May points out in her manifesto, government needs to be looking out for the 'advertising revenues' of those organisations loyal to the establishment
'Hitler Update'
In April Google had an update which was supposedly on or close to the birth date of Hitler, which is also in April, (April 20th).